The boys of yesteryear once wrote,
"It's been a hard day's night, and I've been working like a dog
It's been a hard day's night, I should be sleeping like a log"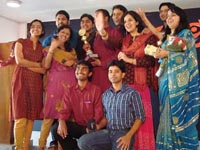 For the young men and women of the institute the Student Residence aka Hostel is more than that. Snuggled amidst the iconic JNC greenery the hostel is literally a stone's throw away from the main gate. Ever-expanding into new, newer and newest blocks this monolith is home to all beyond-lab activities of 200 odd JNCites. Housing largely single room accommodations and some apartments for the ones betrothed, it has everything that makes your life comfortable and convenient – twin-sharing bathrooms, washing machines, wi-fi enabled, a gym for the ones into shaping and sculpting, guest rooms and large LCD TVs to cheer and jeer when needed.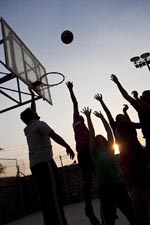 Besides all these conventional details what makes life in JNC hostel unique, stems from the smallness of JNC community. It buzzes with life. All the sports activities are built around the hostel. Be it getting together for a movie on Friday night or people learning away Mohiniyattam – it all happens here. Even on a lazy Sunday the folks love getting together while sipping their filter coffee and crunching on their masala dosa, as Obama to Osama gets discussed.
JNC campus being located far from the fringes of civilization, a tea/maggi/prepaid-card selling true blue Students Utility Store open way beyond the middle of the night makes hunger pangs and most other emergencies redundant.
In brief the JNC students' residence would be the answer to a rephrased question of one Mr. Rose and his friends,
"Take me down to the paradise city,
Where the grass is green and rooms are pretty"
Have fun strolling through the various activities of the hostel!